Exceptional grinding performance with v4 purple power disc in industrial applications
Our V4 Purple Power disc is a highly aggressive grinding tool. Therefore, designed to be used on powerful angle grinders, on robots and automatic grinders. This grinding disc effortlessly shows what it's capable of. It achieves unique performance values, combined with a long tool life for impressive efficiency.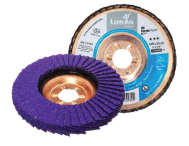 The V4 Purple Power disc is equipped with a high-performance ceramic abrasive coating for outstanding results. In addition, the lamellar shape is optimised for high stock removal. This lamellar flap disc effortlessly grinds steel, stainless steel, cast material and titanium. The V4 Purple Power disc can convert up to 20kg of structural steel into fine chips during the grinding process. The chip removal rate is up to 250% greater than conventional tools. With a tool life of approximately 3.5 hours, this grinding tool when used on robots also exceeds all expectations.

For full details relating to Lukas flexible grinding tools, please click here.
Please contact Kayson Green's head office or your Kayson Green technical sales representative for more details.