KAYSON GREEN STAYS ONE STEP AHEAD IN THE PODIATRY SECTOR
After a thorough development and testing process, Lukas has designed the two new qualities of abrasive cap for the podiatry market – PODO (ORANGE) AND THERMO (PURPLE)
ORANGE (SK PODO) – Fast, efficient, and gentle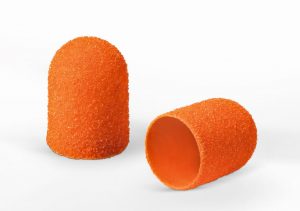 Easier and faster treatment – the special grain formulation is available in three qualities (coarse, medium & fine), all of which work effectively compared to other tools.
Gentle use – the abrasive caps only need slight pressure, thus reducing work fatigue and above all less stress to the skin during the process.
Non-stick effect – the non-stick effect is in addition a hygienic process as skin does not attach during the process.
Benefits of our PODOLOGY abrasive caps
Cost-effective compared to milling tools and diamond cutters.
Available in a variety of shapes, sizes and qualities.
Hygienic single-use prevents the chance of contamination.
Treatments are faster and more accurate.
In addition, Lukas has developed the SK THERMO – which has a patented colour change system which therefore eliminates the possibility of overheating during the process.
PURPLE (SK THERMO) – Safe foot care for sensitive feet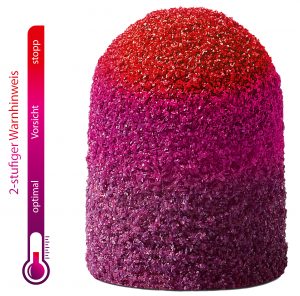 Faster and more efficient treatment – in comparison to conventional abrasive caps and other tools, the SK THERMO abrasive cap enables for a fast, efficient and gentle treatment. The SK THERMO is available in three qualities (coarse, medium & fine)
Improved abrasion performance– thanks to the anti-stick effect, skin attachment to the abrasive cap is vastly reduced, thus a large number of calluses are removed with a single abrasive cap.
Sustainable and eco-friendly– the filler in the caps (organic cotton, formaldehyde-free resins etc) reduces the chance of skin irritation.
THE WORLDS FIRST INNOVATIVE COLOUR CHANGING TECHNOLOGY – the patented colour change technology immediately signals a 

potential danger of overheating during treatment. So users and patients gain an enhanced level of safety in podology and foot care. With the colour-change technology, the colour change occurs in two steps to provide a timely warning of potential skin overheating.
Cap carriers
All shapes and sizes to fit your abrasive cap. Carrier and caps are manufactured to specific tolerances, therefore, ensuring the best fit and operational performance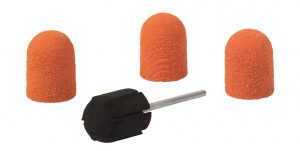 Contact Kayson Green's head office or your Kayson Green technical sales representative for more details. In addition, we offer a full range of products stocked in the UK for next day delivery.
Full product Lukas Podiatry brochure