When a conventional flap disc just doesn't cut it.
The efficient, high-performance SLTT lamellar flap disc from LUKAS is a superior alternative to grinding discs and conventional lamellar flap discs.
Compared to grinding discs, the LUKAS disc has a patented flap shape and arrangement. This provides 50% lower noise levels, less vibration, faster operation, greater efficiency and better surface finish results. The flat orientation of the abrasive flaps makes for safer working because it reduces the wear rate of the tool.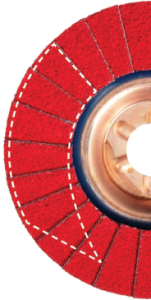 Properties of our flap discs
Outstanding cutting performance
Exceptional tool life
Robust steel backing plate
Low noise and vibration levels
Patented lamellar flap disc shape and arrangement with more abrasive grain.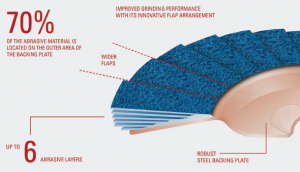 A particularly large concentration of abrasive grain on the outer edge of this tool results in an exceptionally high stock removal rate per minute. Thanks to the multi-layer abrasive coating, these lamellar flap discs remain sharp throughout the tool life. As the flaps wear, the fresh abrasive coating of the flaps underneath is exposed. And in turn, they achieve a long tool life with consistent results.
Our flap disc APPLICATIONs
This particular flap disc range is ideal for machining welds, deburring, derusting, fettling and workpiece preparation. Because of its 22.23mm bore, it fits onto all commonly used angle grinders.

Heavy duty ceramic
Developed for the most demanding and toughest grinding applications.
Especially robust for edge grinding, tempered steels, scaled and coated surfaces.
Free of iron, sulphur and chlorine – INOX
Z Power INOX
Innovative development for grinding stainless steel.
No glazing or heating of the flaps because of the active abrasive surface layer.
Equally efficient for edge and surface applications.
Free of iron, sulphur and chlorine – INOX
Hybrid Perfection ceramic4x 
The professional tool for the toughest jobs. This includes steel, ship steel plates, hardox steel, nickel based alloys and titanium.
Achieves impressively high stock removal rates when rough grinding steel, edging and removing welds.
With additional active abrasive layer for stainless steel.
Zirconia Universal disc
Optimised for universal use on a wide variety of steels and aluminium.
Exceptionally tough grain and resistant to high pressure.
For full details relating to Lukas flexible grinding tools, please click here.
Please contact Kayson Green's head office or your Kayson Green technical sales representative for more details.