Cafro's 'TOP' Bonding System:
Edge retention with resin bond
Cafro integrated the 'TOP' Bonding System to their resin bond family. Always focusing on its customers' needs and on the continuous development of its products,  Split into four hardness grades indicated with odd numbers for Diamond grinding wheels and even numbers for CBN grinding wheels. A variety of moulds are available. Therefore, we are able to manufacture in virtually any wheel diameter required.
For grinding carbide materials, we recommend using Diamond grinding wheels. Dependent on your specific application, the abrasive layer and concentration can be agreed upon. For grinding high-speed steel materials, we recommend using CBN grinding wheels. Again, the abrasive layer and agreement on concentration are dependent on your specific application. Whether using Diamond grinding wheels or CBN grinding wheels, we like to work closely with you to determine your full technical parameters to be sure we can recommend the best quality for your requirement. Therefore, you can trust Kayson Green to recommend the correct tool.  Firstly, understanding your full process and machine capabilities.


Main features
Maximum edge retention for a resin bond
Excellent dissipation of heat generated during grinding
Considerably reduces the wheels power absorption
Produced in four varying hardness's
To conclude, we offer a variety of shapes meaning this new bonding can be utilised in many applications and is not specific to only one process. Since the launch of the 'TOP' bonding system, we have seen great success both in the UK and throughout Europe. When a wheel with resin bond is required and the need for good profile retention capabilities is critical, we recommend making contact to discuss your Diamond grinding wheel or CBN grinding wheel requirement. Wheels can be supplied on a payment-by-results basis for testing purposes.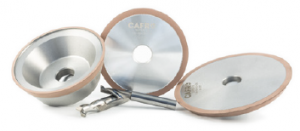 For full details relating to all Cafro grinding wheels, please click here.
Please contact Kayson Green's head office or your Kayson Green technical sales representative for more details.