Lukas Flap Disc: Maximum flexibility thanks to the large flap projection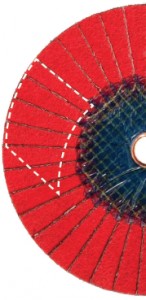 The flexible Lukas flap disc SLTflex for machining hard-to-reach areas are the improved alternative to grinding discs or conventional lamellar flap discs.
The small resin core of the backing plate and its practical M14 thread allows for a larger flap projection. This makes the Lukas flap disc flexible, it can adapt itself to uneven surfaces, and requires little effort in use. With its long tool life, it is ideally suitable for fillet weld grinding. There is no risk of the workpiece being damaged by the back plate.
Compared to grinding discs, this flap disc has a patented flap shape and arrangement giving 50% lower noise levels, less vibration, faster operation, greater efficiency and better surface results. The flat orientation of the abrasive flaps not only makes for safer working, but also reduces tool wear.
A particularly large concentration of abrasive grains on the outer edge results in an very high stock removal rate per minute. Thanks to the multi-layer abrasive coating, these lamellar flap discs remain sharp throughout the tool life. As the flaps wear, the fresh abrasive coating of the flaps underneath is exposed. Therefore, they achieve a long tool life with consistent results.

Properties of lukas flap disc SLTFLEX
High flexibility thanks to the wide flap projection
Exceptionally long tool life
Easy tool changing due to the M14 thread
Available in zirconia or ceramic grain
Application
Ideal for machining weld seams, deburring, derusting, fettling and surface preparation. This type of flap disc is ideal when attempting to access hard to reach areas and if a need for grinding uneven areas arises.
For full details relating to Lukas flexible grinding tools, please click here.
Please contact Kayson Green's head office or your Kayson Green technical sales representative for more details.