GRIND FOR LONGER ON THE HARDEST METALS
Ceramic abrasive caps – finally a tool for straight grinders is available that makes machining smaller parts and deburring extremely easy. Whether tool steel, cast steel, or titanium alloys – the industry machines an increasing amount of extremely hard and tough metals.  Thanks to the self-dressing effect, extra-long tool life is an added bonus.
MAXIMUM CUTTING PERFORMANCE
Developed for demanding materials, the abrasive caps with ceramic grain offers machining performance. Hardened and wear-resistant steels, titanium alloys, weld seams, and hard coatings are no longer a problem with these abrasive caps.  The self-dressing feature retains this aggressive grinding behaviour for a very long time.
PROBLEM-SOLVER FOR MACHINING METAL
The ceramic abrasive caps represent a valuable addition to the tool stock for all hard metal machining industries. These include tool and mould making and the demanding mechanical engineering, steel construction, and aerospace industries. These abrasive caps are perfect for grinding uneven surfaces, machining small parts, de-burring, and regrinding narrow radii. The abrasive caps offer a cool grinding action when used on stainless steel.
SELF-DRESSING EFFECT REDUCES TOOL COSTS
Thanks to self-dressing, a ceramic abrasive cap can be used for a much longer period of time than an ordinary cap. Tool changes are required much less frequently for straight grinders, reducing tool costs.
NO MORE GLAZING
The abrasive particles integrated in the resin matrix break off when worn and make way for new particles with sharp cutting edges. The dulling effect known as "glazing" familiar from other grinding tools when machining hard materials does not occur. As a result, the ceramic abrasive cap continues to work like new despite wear.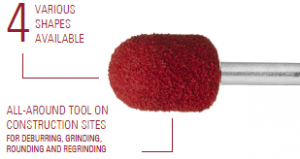 For full details relating to Lukas flexible grinding tools, please click here.
Please contact Kayson Green's head office or your Kayson Green technical sales representative for more details.