NEW HYBRID BOND FOR FLUTE GRINDING: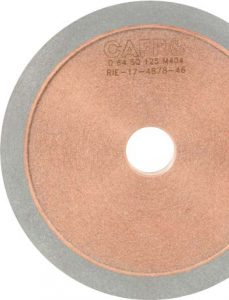 High stock removal rate
Reduction in grinding cycle times
Improved dressing frequency
Good profile retention
Constant power absorption
Another new addition to the CAFRO hybrid bond family: the high-performance M404 bonding system.
An innovative bond combining the high cutting ability of M403 with the profile retention of M405. The new hybrid bond M404 features a remarkable stock removal ability, allowing for reductions in grinding cycle times and improved dressing frequency. This bonding ensures good profile retention and a low and constant power absorption.                                                                                                                         

The recommended rotational wheel speed is 16 m/sec (suggested between 14m/sec – 18m/ sec).
Application example
With carbide mills and drills the main manufacturing requirement is a reduction in grinding cycle times, especially during the fluting operation. To achieve this, it is crucial to use a Diamond Wheel with high stock removal rates, low power absorption and good profile retention. Initial testing on CNC grinding machines proved that the new CAFRO hybrid bond M404 allows for higher stock removal rates with lower power absorption, reduced dressing frequency and an improved surface finish.
Technical parameters

During grinding the wheel is silent, there are no vibrations, and both wheel and workpiece remain at a low temperature. The power absorption at the spindle remains constant and there are no absorption peaks.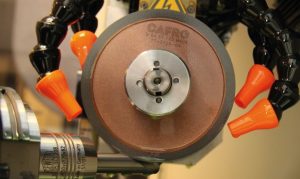 For full details relating to all Cafro grinding wheels, please click here.
Please contact Kayson Green's head office or your Kayson Green technical sales representative for more details.